Booming demand in South Australia for house-and-land packages has fuelled a "standout" year for greenfield developers, who have experienced record sales growth, a major industry report says.
The Urban Development Institute of Australia's State of the Land report reveals annual SA land sales increased by 83 per cent, from 2054 in 2019 to a record 3766 last year.
The 2020 result is 48 per cent higher than the previous highest volume set in 2013 and has been attributed to historically low interest rates and government housing stimulus packages including HomeBuilder.
Adelaide's northern suburbs led the charge recording a 168 per cent surge in sales since "pre-COVID" the report said, followed by the Barossa – up 142 per cent – and Adelaide and the southern suburbs recording 70 per cent in sales respectively.
Developers released on average an extra 50 per cent more blocks between June and December 2020, compared with the previous six months.
"While other capitals have been impacted more through the slashing of overseas migration, we don't believe SA has been as impacted as much," he said.
"Developers and agents have told us that some of this has been softened by ex-pats returning home or first homebuyers deferring travel plans and buying property instead, mainly in suburban areas with good amenity.
"The very quick upward trend in sales late last year is good for economic activity and jobs, but highlights the critical need to ensure new estates come online to maintain our competitive price point in comparison to other states."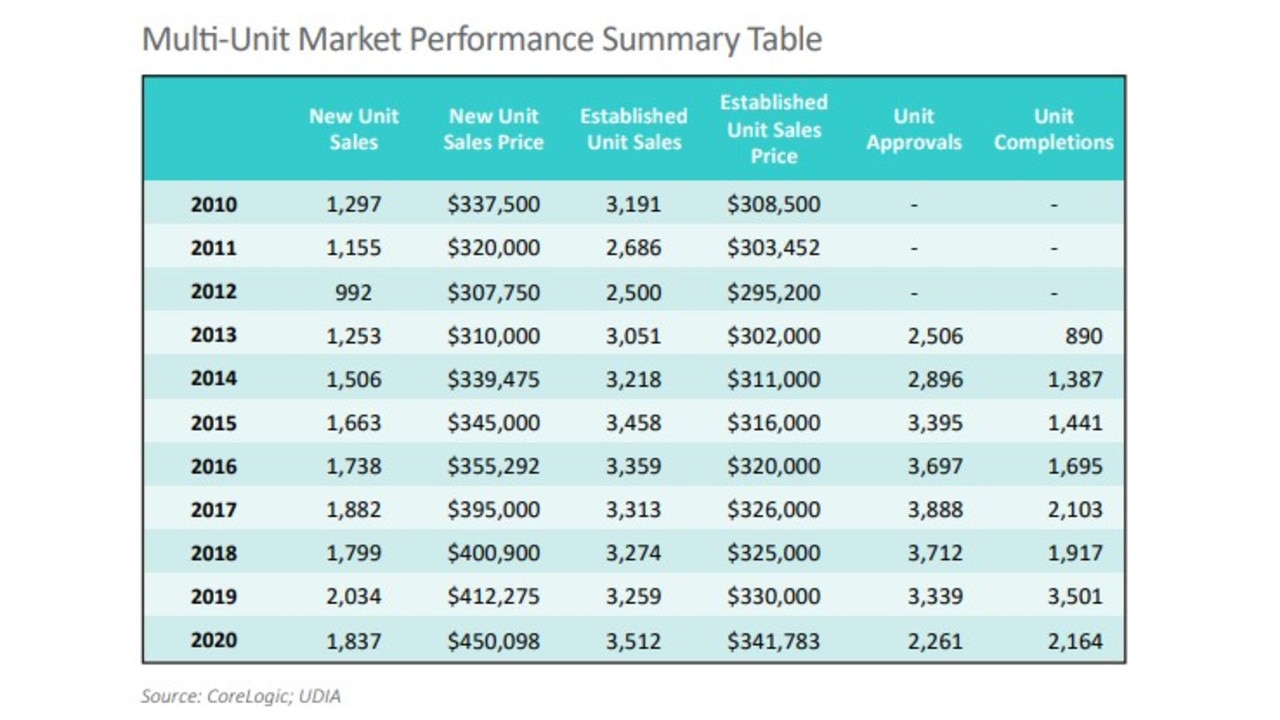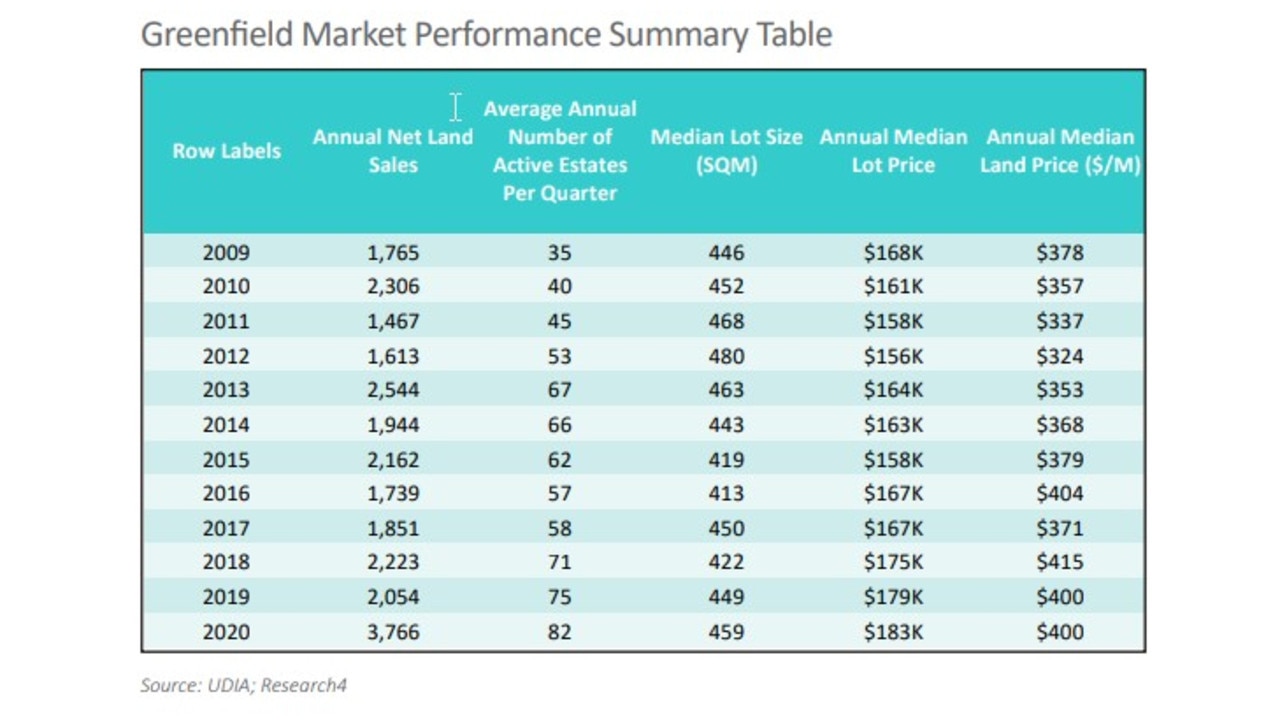 The median greenfield land price increased by 2 per cent to $183,000 but remained the cheapest among capital cities.
The UDIA report, compiled with property date company CoreLogic, reveal multi-unit completions fell by 38 per cent from 3501 in 2019 to 2164 last year.
New apartment and townhouse stock remained "subdued" in 2020 with 1840 new sales, a 9 per cent decline on 2019, the report said.
Adelaide had the nation's highest concentration of units within 10km of the CBD, driven by increased urban regeneration and infill projects such as Bowden and new projects in the CBD.
Fifty-two per cent of the new multi-unit dwelling completions in the greater Adelaide region occurred within 5km of the Adelaide GPO, followed by 40 per cent in the 5km-to-10km band.
The State Government has rezoned many inner-suburban areas to allow higher-density development.
The government said 70 per cent of new housing was happening in established suburbs, compared with 76 per cent in 2015.
CoreLogic head of research Eliza Owen said detached houses were expected to remain in "high demand over units" in 2021 and record higher capital growth.
Housing Industry Association SA executive director Stephen Knight said consumer demand for larger blocks would increase because of the COVID crisis with a "trend towards home offices and more space and a trend away from apartment living".
"If demand continues for larger blocks then availability of suitable subdividable land will become an issue," he said.
Adelaide University's property expert and lecturer Peter Koulizos agreed saying people working from home would drive less demand for small places.
"The trend has already started … developers are telling me that no one is interested in two-bedroom apartments or townhouses, they want three-bedroom houses and more," the chair of the Property Investment Professionals of Australia said.
"Research has also shown that the less often you have to go to work the more you're willing to live away from work."
MAKING MOVE FROM EAST TO WEST
Proximity to the city, parks and choice of housing options is what drew first-home buyer Renee Slunjski to Bowden.
The area has undergone a huge renaissance from industrial estate to hip housing estate with an extra 594 houses, units, townhouses and semi-detached properties built in the past six years according to property data from the Valuer General.
"I didn't do too much searching because I was really happy with the options in Bowden," Ms Slunjski, 27, who lives with her partner Nick Purgacz, said.
"The Artisan (apartment block) was rustic and modern and it's location on the outskirts of Bowden appealed to me as I didn't feel boxed … the location is fantastic, we love being able to walk to work."
Ms Slunjski, an optometrist, bought her two-bedroom, two-bathroom apartment off the plan in 2017 and took occupancy in January 2019.
She and Mr Purgac moved from Adelaide's eastern suburbs and love being part of the Bowden "culture".
"Nick and I love walking along the Torrens a few times a week, around Adelaide Oval and through North Adelaide – it never gets old, and we're so grateful to have that as our backyard," she said.
"Sometimes we think it'd be nice to have a backyard, but with two balconies and the facilities around us we don't think we miss out, maybe when there's kids in the picture it would be nice to have more space.
"It's a massive advantage being able to clean the house together in an hour, so we have time to enjoy our weekends.
"This was a first step into the property market and hopefully we can keep it as an investment when we move to the next step into something bigger."
Renato Castello, Herald Sun, 17 March 2021
https://www.heraldsun.com.au/news/south-australia/record-sales-growth-for-houseandland-packages-at-greenfield-sites-across-sa/news-story/95f724d3ed2860ed13a881d3304a9eb1?btr=78094283c4857585798b72513131cbff