Our national obsession with real estate prices and investment properties has long been defined by the state of the markets in our two biggest cities – Sydney and Melbourne. These are the powerhouses behind a long-term property boom that has only slightly come off the boil.
But that duopoly is being challenged. Property Investment Professionals of Australia's 2020 Annual Investor Sentiment Survey found that investors are turning to the regions as places to both invest and live in, partly driven by the game changer that is the coronavirus.
The national survey, conducted online in August and reflecting the views of about 1,100 property investors, shows that investors are still confident about the future, with 67% believing now is a good time to invest in residential property, though this has dropped from 82% in 2019.
"While there is no doubt that 2020 has been one of the toughest in living memory for everyone around the globe, property investors have remained resilient in the face of the unprecedented uncertainty we are all experiencing," says PIPA chairman Peter Koulizos. "The property market has continued to show its resilience, with prices materially stable in most parts of the nation."
The survey reveals that 77% of investors say concerns about potential falling house prices won't make them put their investment plans on hold, and 44% are looking to buy a property in the next six to 12 months.
Just where investors want to purchase properties could prove a welcome and transformational change for regional Australia. The survey shows that more than 40% of investors intend to buy property in a different state or territory to the one they live in. The regions are set to reap the benefits of an influx of new residents, with investors saying they want migrate to regional NSW (21%), regional Queensland (18%), Brisbane (16%) and regional Victoria (14%).
"We can identify 12 regional locations across Australia that are booming right now" Simon Pressley, head of research, Propertyology
Queensland offers the best investment prospects, favoured by 36% of investors, followed by Victoria (27%) and NSW (21%).
The survey reveals the main reasons for moving to the regions are improved lifestyle (78%), working from home (46%) and housing affordability (40%). The appeal of metropolitan markets has fallen from 73% last year to 61% this year.
Koulizos says interstate investments have been growing in popularity in recent years as investors have become more strategically astute.
"Investors are recognising the value of working with property investment professionals to help them score the best opportunities across the nation," he says.
Ben Plohl is a member of PIPA and the principal buyer's agent at Sydney-based BFP Property Buyers. He advises homebuyers and investors who are buying property all over Australia.
He says interest in the regional property markets was growing even before the COVID-19 pandemic hit.
"Sydney and Melbourne have always dominated the media headlines from a property perspective. Even pre-COVID the regions definitely gained momentum in terms of people wanting to escape the city and relocate from a homebuying perspective," Plohl says.
"But also from an investor's perspective, I've always been bullish on the regional markets. I think since COVID, that's been more prevalent.
"Obviously we are very select about where we buy in regional Australia, but there are some gems out there."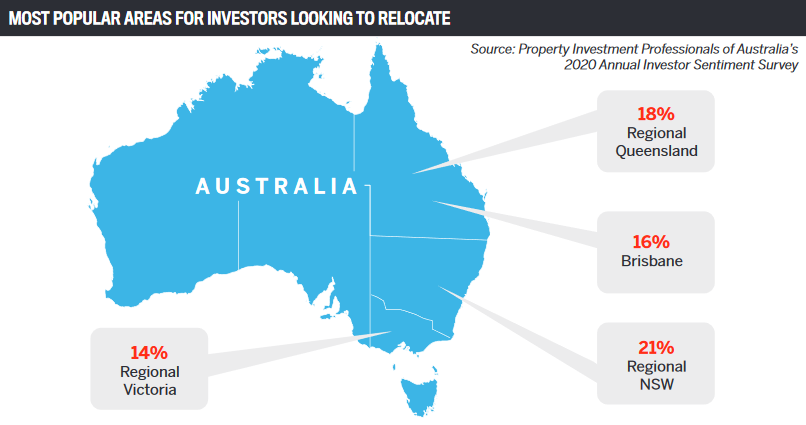 Plohl says regional Victoria and NSW are definitely standout areas for his clients. He highlights Bendigo, Mildura, Albury-Wodonga, Orange and the Central Coast.
Greater affordability and better yields and lifestyle are major attractions of regional cities, as well as job opportunities, population growth and robust economies.
Plohl say there's also the principle of supply and demand: "The regions I am looking at have land-locked areas or locations that have very little developable land, and there's a real desirability with these places which is driving up demand."
Working from home is also playing a big part in the regional trend.
"People are looking at themselves and saying, 'Do I need to live in the centre of Sydney? I don't need to commute to the office any more'. I've got clients wanting to go to the Central Coast – a much cheaper alternative with lifestyle amenities, beaches, fresh air."
Plohl gives an example: following a client's purchase of a Central Coast property, it was put up for lease and within 12 hours there were 12 clients wanting to lease it sight unseen.
"I've studied property cycles and economics for many years … what we're going through and what was announced in the federal budget is just another tick in the box for what happens when property markets are about to enter a significant uptrend," Plohl says.
Queensland-based buyer's agent and property analyst Simon Pressley, head of research at Propertyology, says that for the first time in 20 years Australia is experiencing a truly national property boom.

Pressley has identified 12 booming regional areas: Orange, Launceston, Burnie, Coffs Harbour, Noosa ("the hottest market in Australia right now"), Mildura, Bendigo, Karratha, Moranbah, Emerald, Whyalla and Mount Gambier.
"Never have we have had such a widespread boom since the Howard/Costello years from 2001 to 2003. We are at double-digit price growth pace right now," he says.
Pressley believes the regional property boom would have happened without COVID-19.
"People wanting to work from home and get out of the big cities has been an extra driver."
Pressley says that while COVID has "put the pause button" on the property market, the effect has been minimal given the all-time low interest rates and the fact that "85% of the population" have not been adversely affected by the pandemic.
"We've definitely seen an increase in those looking to leave Sydney and head our way" Simon Kersten, managing director, Colliers International Wollongong
He says the "doomsday scenario" of a plunging property market did not occur because property is an essential commodity and its scarcity has put upward pressure on prices.
Colliers International Wollongong managing director Simon Kersten, whose company focuses on project developments and apartments, says there is strong demand from owner-occupiers and first home buyers looking to relocate to the Illawarra.
"We've definitely seen an increase in those looking to leave Sydney and head our way," Kersten says.
"It appears the South Coast is having an even stronger influx."
Due to COVID-19, many people don't need to commute, and this has accelerated interest in buying property in Wollongong, he says.
"The population of Wollongong CBD has doubled in the last five years, and there's enough apartments coming to see that trend continue."
Fear of living in a big city during COVID is also a big factor, Kersten says.
Demographer Bernard Salt has coined a new name for the group of people driven by this fear, dubbing them VESPAS, or Virus Escapees Seeking Provincial Australia.
Salt says it's no longer just retirees; it's younger people too – drawn to the regions by their safety and security, housing affordability, access to the NBN, and even the drought-busting rain that's bringing the parched countryside back to life.
To capitalise on the trend, Kersten says businesses need to offer flexible working arrangements, such as office space for their regional employees.
Wollongong City Council is currently lobbying state and federal government departments to relocate to Wollongong.
Antony Field, Australian Broker, 24 November 2020
https://www.brokernews.com.au/features/analysis/investors-lured-to-the-regions-274350.aspx