What happened in Australian housing markets after the Global Financial Crisis (GFC) in 2008 could provide some insights on how they will emerge from the COVID-19 outbreak, according to a joint study by the Property Investment Professionals of Australia (PIPA) and CoreLogic.
Dwelling values in capital cities three years after the GFC rose by up to 39%, while in regional areas, values posted even more substantial gains of up to 65%. It is crucial, however, to take note that the bulk of the growth in regional areas was due to the mining areas, which were on an uptrend at that time.
"Areas such as mining towns, where economic conditions are dependent on a single industry, are much more likely to experience bursts of price rises or falls because of the strength or weakness of their dominant industries," said Tim Lawless, head of research at CoreLogic.
Lawless said that while these regional areas hit "spectacular" capital gains post-GFC, they, a few years later, recorded a crash in home values as the mining boom moderated.
Across capital cities, a mix of inner- and outer-city suburbs rose as top performers. Sydney dominated this period, with six of its suburbs cracking the top 10 best performers during the three-year period. The top spot, however, belonged to Northern Territory's Rosebery. Below is the list of the best-performing suburbs and their median values three years after the GFC.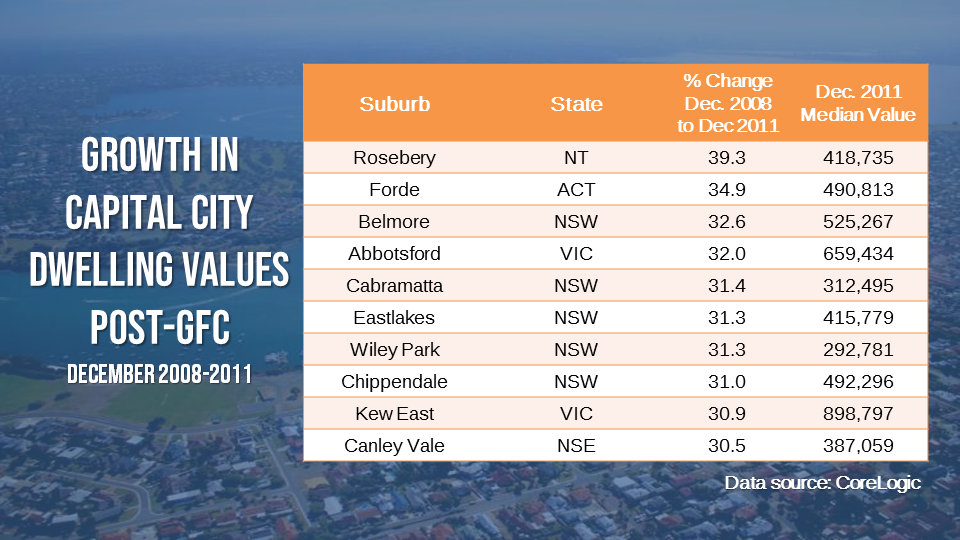 Gerv Tacadena, Your Investment Property, 26 August 2020
https://www.yourinvestmentpropertymag.com.au/news/how-property-emerges-from-a-downturn-272998.aspx