Biggest gainers in the decade
Mar 2020
Karen Millers
Lakemba, a Sydney suburb in the Canterbury region, was the top-performing suburb across Australia over the last decade, according to a joint study by the Property Investment Professionals of Australia (PIPA) and CoreLogic.
According to the study, dwellings in Lakemba reported the highest annual capital growth in Australia over the past 10 years, increasing by an average of 8.4% annually. In fact, home values in this suburb more than doubled during the period, hitting $881,000.
The suburb with the next best annual price growth was another Sydney suburb, Oatlands – Dundas Valley. Prices in this neighbourhood grew by an average of 8.1% yearly. Over the decade, its median house value went up from $662,302 to $1.44m.
Melbourne's Rockbank in Mount Cottrell was the third-best performer over the decade. During the period, residential values in this suburb jumped by 7.9% annually. The median price of homes went from $279,684 in 2010 to $598,268 this year.
Long-term strategy
Substantial gains were recorded in both the affordable and luxury segments. The report also showed that within the subdued markets, there were suburbs that bucked the trend.
"Even though Adelaide only recorded average annual growth of 1.3% over the past decade, its top-performing location of Prospect saw prices increase of 3.4% per year over the period," said Peter Koulizos, chairman at PIPA.
Darwin had a similar situation. The city recorded an annual decrease of 1.3% over the decade, but its top suburb, Rosebery–Bellamack, registered a 3.2% annual gain.
"This is actually quite common, because there are submarkets within markets which operate to the beat of their own drums, usually because of consistently strong demand from buyers keen to live or invest in those locations," Koulizos said.
The results of the study show how crucial it is to see investing as a long-term strategy. Tim Lawless, head of CoreLogic Research, said short-term movements in prices are less important than the longer-term trends.
"The past 10 years have seen areas of Sydney and Melbourne outperform most other markets thanks to strong economic conditions and high rates of migration, which has fuelled housing demand, however, such high rates of capital gain have eroded housing affordability and compressed rental yields," he said.
Lawless also the best markets in the next 10 years are likely to be different.
"Just as they were over the earlier decade where, for example, mining regions and regional coastal markets where some of the strongest performing areas," he said.
The tables below show the suburbs in each capital city with the highest average annual growth over the past 10 years: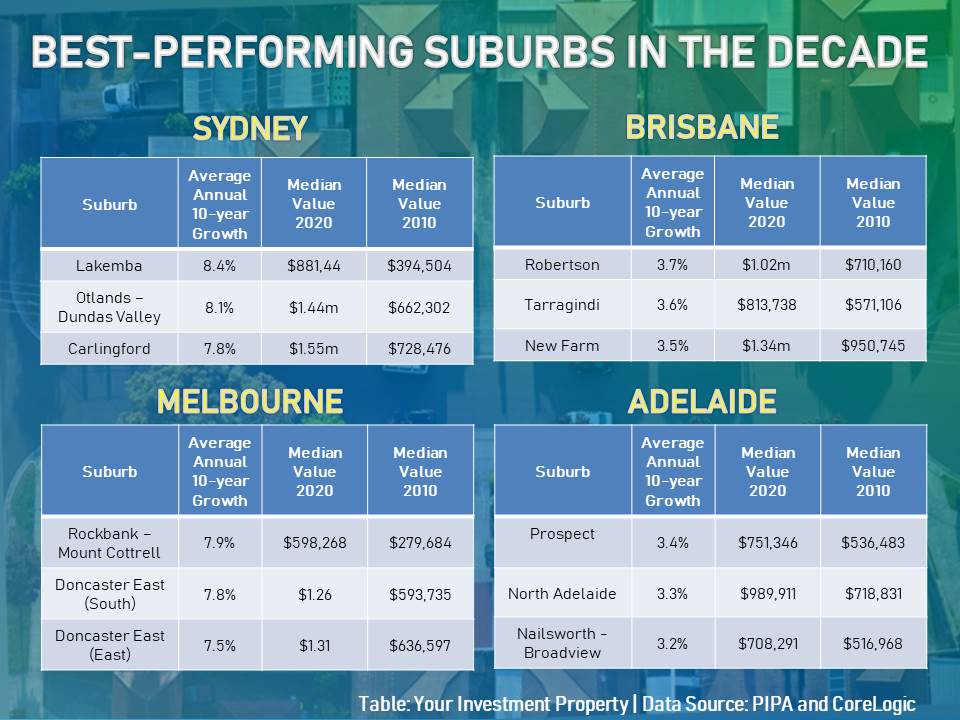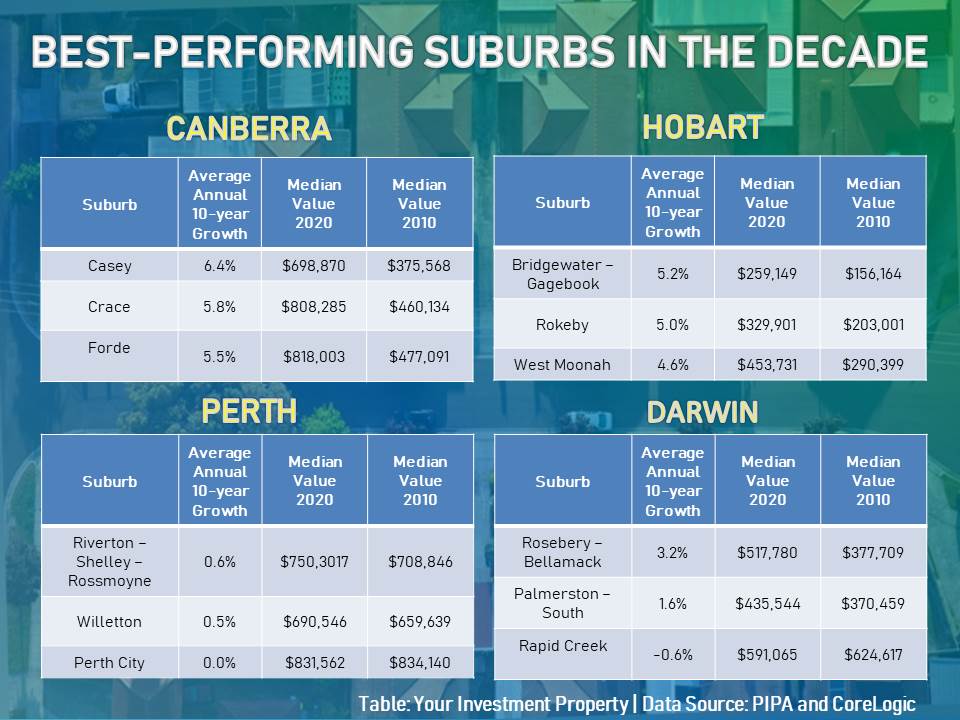 Gerv Tacadena, Your Investment Property, 16 March 2020
https://www.yourinvestmentpropertymag.com.au/news/biggest-gainers-in-the-decade-270537.aspx